TEST TAKING SKILLS
Boosting Your Personal Performance
Much of our children's educational success is judged by their performance on standardized, group-administered tests. Students who are familiar with test formats, guessing techniques and timing considerations can better demonstrate their true skills and abilities, thus affording them wider educational opportunities. Nancy Whittington's students benefit from her extensive training and experience in test construction and norming by learning strategies appropriate to each different test's nature and intent.
Strategies for school admissions testing: lower school, middle school, high school and college
Strategies for school test-taking
Both individual and small group instruction
o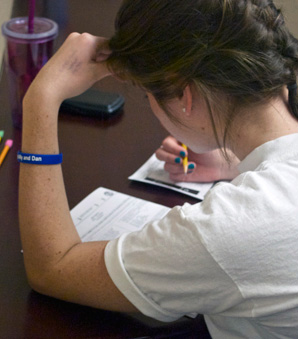 ISEE or SSAT - Private
school admission tests
One of the least descriptive evaluations of a student is also one of the most important to admission directors: the student's ISEE scores. Aside from previous ERB or group testing scores, it is the only objective measurement of current academic progress schools have to evaluate student applicants. My perspective is one of a professional in the field of psychometrics and one who served on an independent school admission committee for a number of years. My approach to test preparation is all about helping children show the best of themselves on a two-dimensional assessment. My goal is to help students feel comfortable taking a 3 hour test in unfamiliar surroundings. The test and the entire admission process itself may well be stressful to your child, but being appropriately prepared for it will reduce the stress.
PSAT, SAT, ACT.
I have had tremendous success in preparing students to take the PSAT and SAT I Subject Tests. More than 70 students have been named National Merit Semi-finalists or Commended Scholars. For the 2013 competition, 10 of my students have been so recognized. Routinely the best performers are those that start early because lasting skills are those that are built upon and reinforced over time. The added benefit is that the skills developed are useful for school performance as well! Developing a plan for preparation starting Freshman year is recommended. Lessons are offered in both small group and individual settings. Small group lessons are planned for 5 to 6 students. Full length practice tests are scheduled regularly, and students are encouraged to take practice tests often.
Click on the test name below to see a schedule of small group classes and to register
ISEE
|
ERB
|
PSAT
|
SAT
|
ACT